Wild Mushroom Truffle and Herb Risotto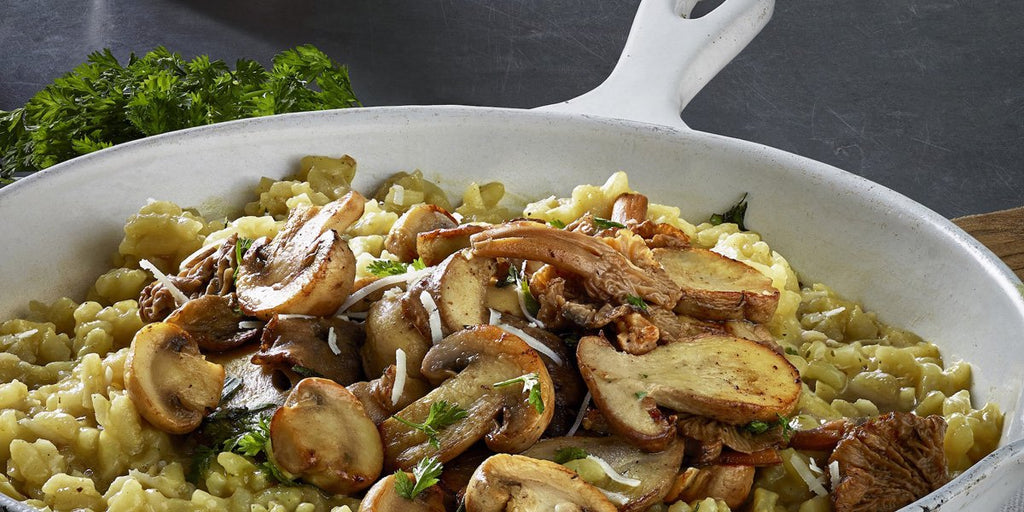 Ingredients
Risotto:
15g dried mushrooms of your choice
1 litre of good quality vegetable stock
2 tbsp olive oil
1 onion, finely chopped
100g button mushrooms, sliced
200g carnaroli or arborio rice
A couple of sprigs of fresh tarragon
150 ml dry white wine or vermouth 
Salt and freshly ground pepper
Zest of 1 lemon
15g unsalted butter
50g parmesan, grated (with an additional 20g for serving)
For the mushroom garnish:
150g mixed fresh chanterelle and cep mushrooms, cleaned
20g butter
1tbsp olive oil
A handful of fresh tarragon, finely chopped
Method
Soak the dried mushrooms in hot (not boiling) water for 20 mins. Drain the mushrooms and chop, making sure to keep the liquid to one side
Add the reserved liquid to 1 litre of vegetable stock to make up 1.25 litres. Heat the stock and keep on a simmer over a low heat
Heat the oil and sauté the onion over a gentle heat for 10 minutes, until softened and translucent, but do not let them brown
Add the button mushrooms and heat through for a few minutes
Increase the heat and add the rice, stir to coat the grains in the oil for a minute or so, then add 2 sprigs of tarragon
Add the wine or vermouth, stir until the liquid has evaporated

Add a ladleful of stock to the pan, reduce the heat to low, and stir until the stock has been absorbed. Continue to add the stock, one ladleful at a time, stirring until it has been absorbed into the rice before adding the next ladleful.

Add the soaked chopped mushrooms. Leave on a low heat for 30 mins

In a separate pan, fry the chanterelles and ceps in 20g of butter and 1tbsp of oil for 5 mins. Season, add the chopped herbs and stir through over a low heat. Keep warm over a low heat

Add the Maille BlackTruffle Mustard with Chablis White Wine, lemon zest and the final ladleful of stock to the risotto, stir until absorbed

Add the butter and parmesan. Rest for a minute with the lid on, then stir vigorously for a couple of minutes

Serve the risotto topped with the fried mushrooms, finish with a little extra grated Parmesan. Season with salt and pepper. 
The Maille Tip
Drizzle with Maille Black Truffle Oil for a finishing touch.
---