Young Leek terrine with roast prawns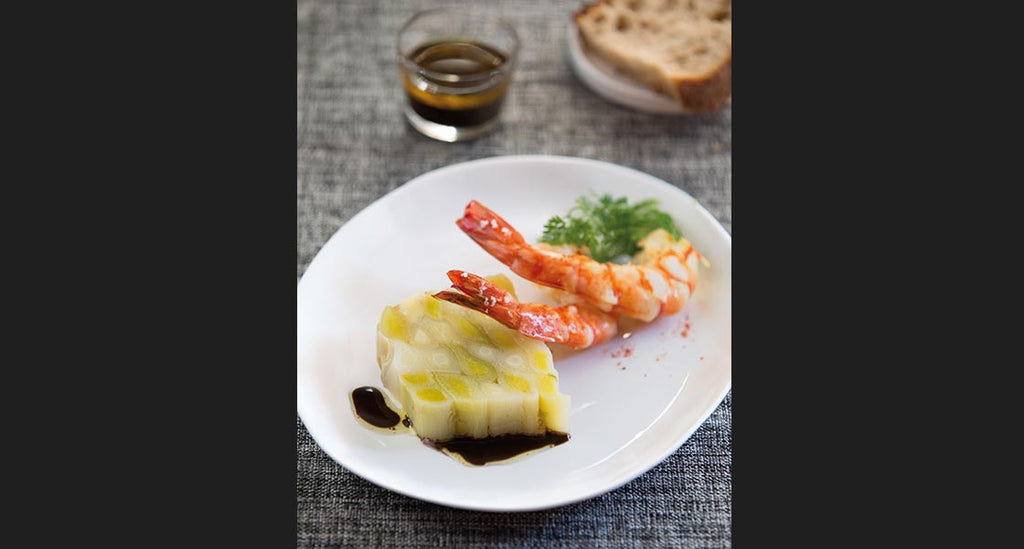 Ingredients
For the Leek terrine
12 pieces of pencil sized or thin leek
10 ½ cup chicken bouillon
2 gelatin sheets
12 peeled prawns
8 tsp Maille Balsamic vinegar
Salt
Natural sea salt
Ground pepper
For the Vinaigrette
Preparation
The day before:
Wash the leeks in warm water to remove the dirt.
Put the leeks into salted boiling water for 10 minutes. Remove and put into iced water to cool and then leave to dry on a cloth. Press to remove all the water.
Heat the chicken bouillon and mix in the softened gelatin and Maille Balsamic vinegar
Place the leeks lengthwise in a small terrine, adding a spoonful of bouillon between each layer.
Carefully cover the leek terrine with Saran wrap and leave in the refrigerator overnight.
The next day
Make the vinaigrette: Mix the Maille Dijon Originale, salt and ground pepper with the Maille Balsamic vinegar. Add the Maille Truffle Olive Oil using a whisk and put aside.
Remove the leek terrine from the dish. Cut into 6 good slices with a very sharp knife and arrange on a plate.
Fry the prawns in a non-stick frying pan with a dash of Maille Truffle Olive Oil season with salt and pepper and arrange around the slices of leek terrine.
Moisten the slices of leek terrine thoroughly with vinaigrette and serve the rest on the side.
---