Delicious Party Food Ideas for your festive Apéritif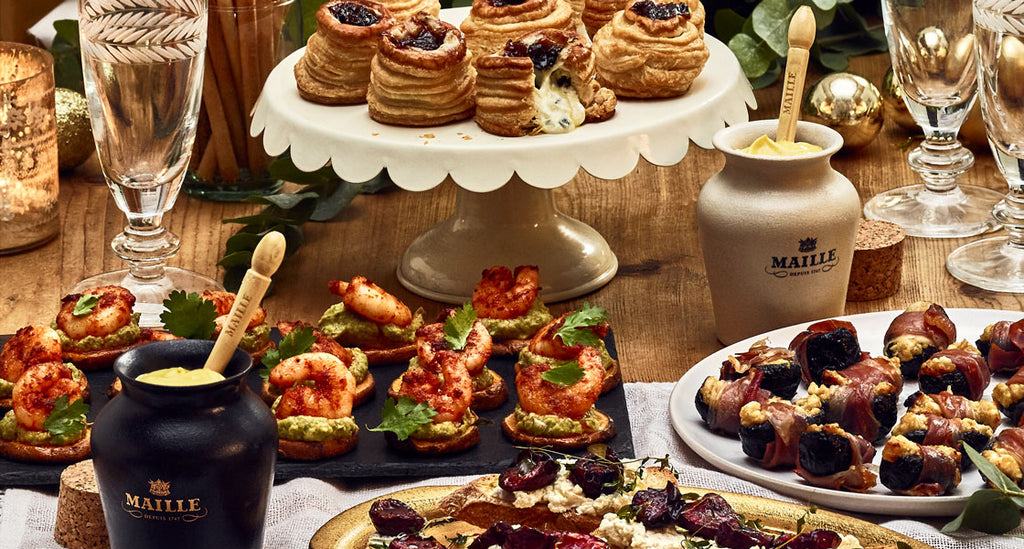 Host a festive apéritif to celebrate with friends or family and get inspiration from our party food ideas.
__________________________________________
Bonjour Bonjour!
As the festive season is fully unfolding, our calendars start filling with festive dinners & parties.
With plenty of occasions to celebrate with friends, family or colleagues it's hard to choose with whom we want to get together, isn't it? We believe it's not; we can have Friends-giving, Friends-mas, Saint Colleagues' Day… let's celebrate many Nöels!
What best occasion to get together other than an aperitif? Instead of hosting a traditional festive dinner, get inspired by our party food ideas for a festive apéro dînatoire*!
As you know, les françaises love accompanying their drinks with some light finger food. In this way, the apéritif moment takes over dinner, making more space to flavor exploration and creativity through small bites or canapés.
We selected some of our favorite party & finger food recipes to inspire you with ideas to delight your guests.

Smoked salmon is one of the ingredients par excellence of any Christmas/festive dinner party. You won't believe how simple and quick this recipe is, yet how it will make all your guests go 'wow'! All you have to do is add our Black Truffle mustard to the cream cheese… et voilà. Try also using our Dill & Lime mustard instead, to unleash a medley of fresh sea flavors.

Trust us, we hardly resisted feasting on them before taking this picture. Creamy, hearty cheese meets warm, chewy dates. A match made in foodies' heaven. The perfect flavor balance of sweet ingredients and the intense mustard is almost impossible to put into words... you'll have to try them to understand.

Beautiful and elegant to serve, these small bites will be flying like hotcakes. The spiciness of the shrimp, paired with the freshness of the avocado and the heartiness of the sweet potatoes… they'll be gone in the blink of an eye.

Who doesn't have a roll of puff pastry in the fridge at all times, ready to improvise a recipe with whatever's available? This is what happened when we created this recipe: mix together some cream cheese, Maille's Blue Cheese mustard, a handful of roughly chopped walnuts and a sprinkle of cranberries. Cut an even number of circles from the puff pastry and cut half of them into rings. Place a ring on top of each circle to make vol-au-vents and fill with the cheese mix. Bake in the oven and serve immediately, to relish the melting cheese.

Cheese, bacon, Maille mustard… sounds promising! And as we like to keep our promises, we guarantee this recipe won't disappoint you. These mouth-filling, comforting bites will be eaten up in no time.
Bon Appétit,
Les Bloggers Maille
*In case you've missed our previous article on l'apéritif dînatoire, click here to discover why the French love it.
---