Find the Perfect Gift: Maille's Holiday Gift Guide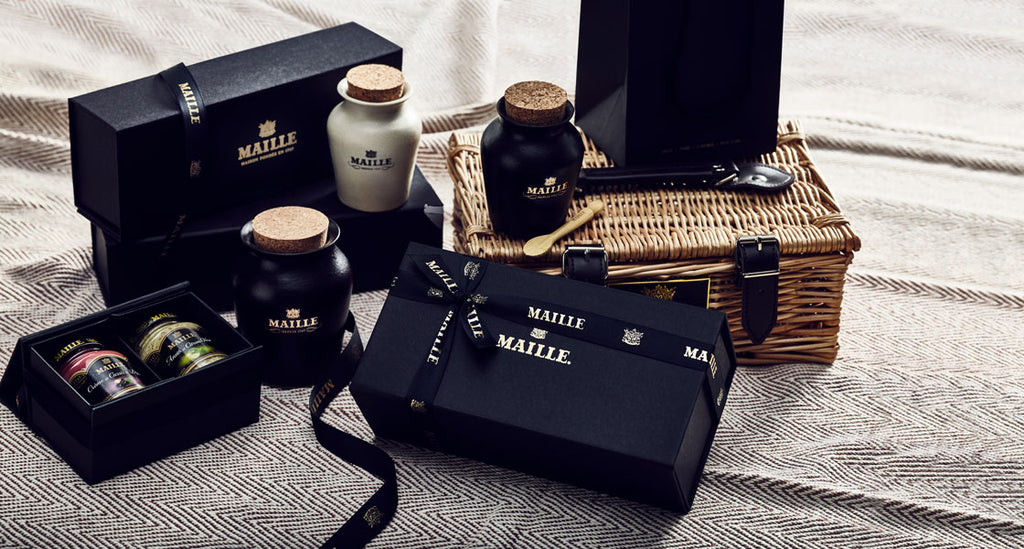 Bonjour Bonjour
It's time again to start celebrating the festive season with friends and family; lots of opportunities to get together and… lots of gifts to wrap up!
Our holiday gift guide is here to help you find the perfect gift for your beloved ones.

There's something magic about the festive period which makes us all want to surprise and delight the people we care about, to make them feel special. However, we might find ourselves struggling with finding that perfect gift; what should I give my dad, my brother… my boss?

So, after browsing ten thousand ideas on Pinterest, window shopping for inspiration and asking everyone in our circle for suggestions, we end up buying yet another pair of socks. Socks come in handy, don't they? Besides, these red and green polka-dotted mid-calf length socks are just adorable and in season…

And before you'll even have time to realise that those socks are everything but adorable and that they will force a smile through clenched teeth on the recipient's face, you're already walking out the shop with a pair of red and green polka-dotted mid-calf length socks wrapped in reindeer-themed gift paper. "Why did I get a contactless credit card, why?"
This year, don't give socks. Give Maille.

We've identified 5 types of people you might need to find a gift for.

Here's our guide to find the perfect gift:
The difficult-to-buy-for person
a.k.a. your dad or your boss. 
We all know that one person for whom finding a gift is a series of 'Mission: Impossible'. We have a solution for you; it's called Black Truffle fresh mustard. Intense and earthy in flavour, this French Dijon mustard infused with Chablis white wine is served in our exclusive handmade black sandstone jar. A truly luxurious condiment. There's nothing not to love about it or, to put it in our mustard lovers' words, "I was given this as a present. It is simply the best mustard that I have ever tasted."
The "I-have-it-all" foodie
What do you give to a food lover who already has everything? A bottle of wine, maybe? Nah... they probably already have a 13-years-aged Bordeaux red wine in their cellar: no chance you can compete with that. However, we do have something for you: our limited edition fresh mustard with Champagne Brandy and Winter Spices. Available throughout the festive season only. 
The Secret-Santa-Colleague: secret-Santa seemed a really nice idea before you drew the name of the only colleague you just don't know at all – hem… that well. And as If this wasn't enough, you have yet another challenge: your colleagues all agreed on a $10 budget. Is it even possible to find a present that is more exciting than a pair of red and green polka-dotted socks (yes, here they come again…) on such a tight budget? Don't panic – Maille has a selection of surprising and beautiful gift sets for a limited budget: a jar of our crunchy cornichons for example, or dare to explore our flavored mustard range. Mix & match, everything's allowed. 
The BYOB party host
Whenever you're invited to somebody's home for dinner, it's always a good idea not to show up empty-handed. Some party hosts would ask you to bring your own booze… surprise them with a selection of our fruity vinegars! They're not only good for drizzling on salads but they make amazing cocktails and mocktails, too! Looking for inspiration? Check out our aperitif food and cocktail ideas. Party nights will never be the same…
The Food Traveller
Some people travel to explore new cultures, we travel to explore new foods. And if your foodie friend is also a food traveller, make their taste buds travel around the world with our exotic spiced mustards. If they love Southeast Asian cuisine, get them a jar of our Mango & Thai Spices mustard for an aromatic fruity blend. They won't stop talking about how incredible their recent trip to Greece has been? And the food… such delicious food!

Bring them back with our Fig & Coriander  mustard; the perfect pairing with salty sheep's cheese such as feta and roasted aubergines.

Last but not least, they will be thrilled by the one thousand and one dishes they can explore with our Middle Eastern inspired mustard with  Saffron & Isigny Crème.
À la prochaine,
Les Bloggers Maille
---