Browned Butter + Maille Dijon Mashed Potatoes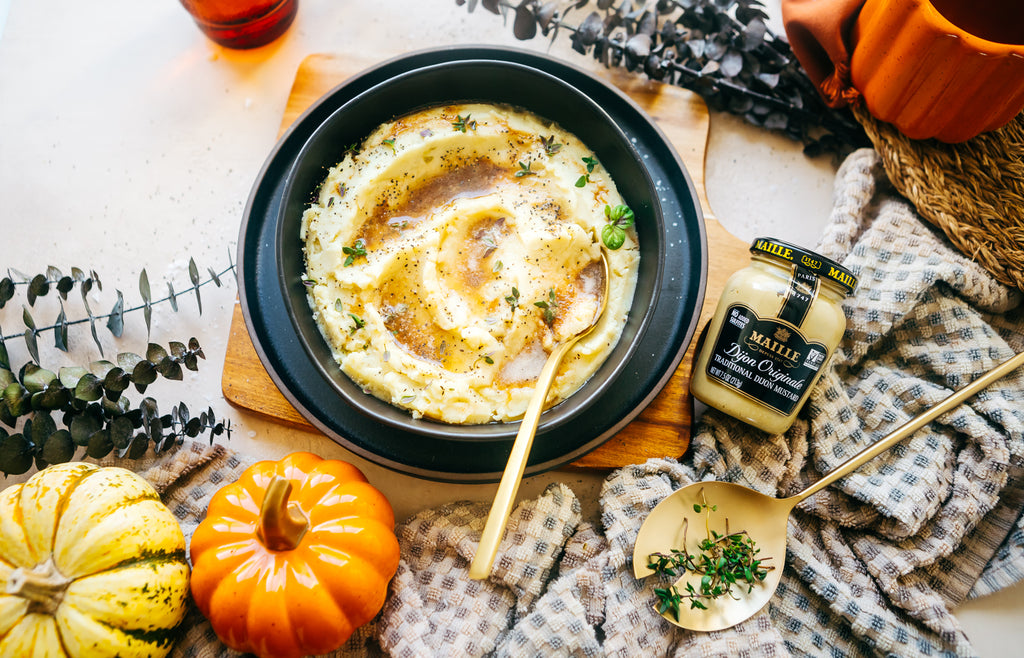 Prep Time: 5 Minutes
Cook time: 30 Minutes
Total Time 35 Minutes
Serves: 8
By: SweetandSorrel
Make the perfect mashed potatoes this holiday season using this recipe for Mustard Browned Butter Mashed Potatoes. This recipe is made with simple ingredients that are easily accessible. The secret to the amazing flavor? Maille Dijon Original mustard.
Ingredients
5 lbs Russet potatoes, cubed
1 cup half and half (or heavy cream)
2 tbsp + 2 tsp Maille Dijon Original mustard
1 stick unsalted butter
kosher salt
fresh black pepper
fresh herbs, chopped (for serving)
Preparation
Add cubed potatoes to a large, heavy bottomed pot. Fill with enough water to cover the potatoes, then add salt and bring to a boil. Cook uncovered until potatoes are tender, about 25-30 minutes.
Meanwhile, in a small saucepan, heat butter and 2 teaspoons of Maille Dijon Original mustard over low heat until the butter melts, about 5 minutes. Slowly swirl the butter in the pan until it foams and turns light brown, roughly another 2 minutes. Remove from heat. The butter will continue to brown as it cools. Keep warm.
Once the potatoes are cooked, turn stove down to its lowest heat. Drain the potatoes and return to the stove. Use a fork to remove the skin, if desired. Add half and half (or heavy cream) and mustard. Mash in the pot until smooth and creamy. Taste then adjust flavor and consistency according to your preference by adding salt, mustard, or half and half.
Serve potatoes warm, topped with mustard browned butter, fresh black pepper and herbs.
---