Creamy Veggie Sandwich with Maille Mustard Sauce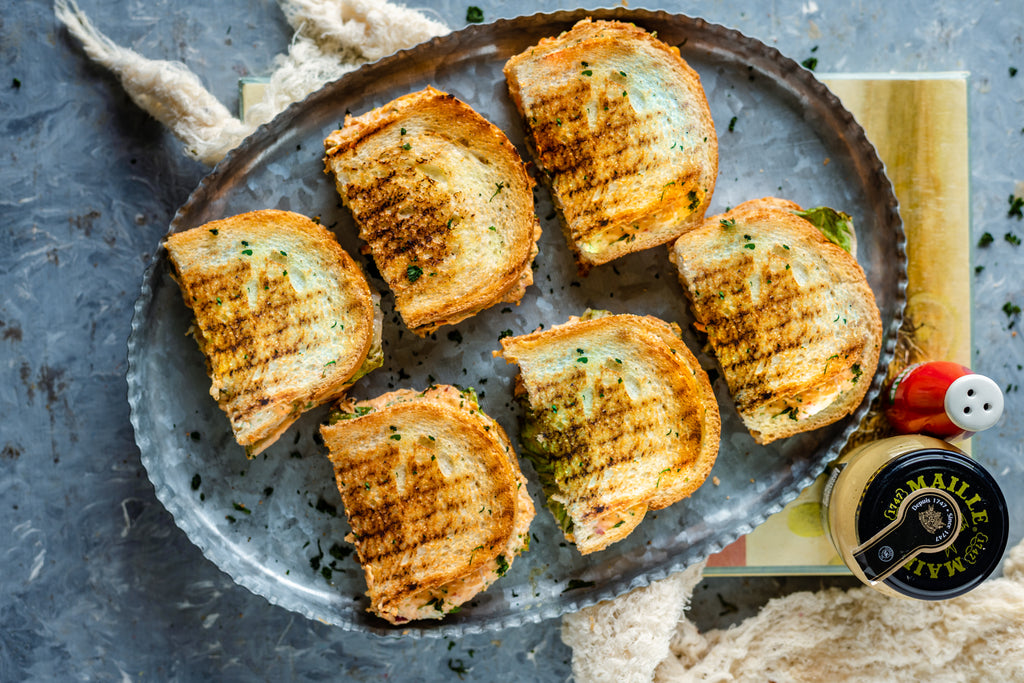 Prep Time: 15 minutes
Cook time: 10 minutes
Serves: 6 sandwiches
By: Cookilicious
This veggie sandwich will easily become your go-to snack! It's a vegetarian sandwich recipe made with veggies, cream cheese, and mustard sauce. You can make this veg sandwich in just 20 minutes!
Ingredients
8 oz cream cheese spread
3 tbsp chilli garlic sauce
1 cup of chopped veggies: carrots, bell peppers and onions
2 tbsp cilantro
2 tsp Italian seasoning
2 tsp red pepper flakes
½ tsp crushed pepper
6 lettuce leaves
12 bread slices
½ cup grated cheese
Oil or butter for grilling
Salt as needed
Preparation
To a mixing bowl, add cream cheese. Then add chili garlic sauce.
Add the Maille Dijon Originale Mustard. Mix well.
Then add the veggies - chopped onions and bell peppers, and grated carrots.
Add cilantro, Italian seasonings, and red pepper flakes.
Also add part of the grated cheese along with salt, and pepper. Combine it all together.
Place lettuce over bread slices.
Spread a generous layer of the veggie mixture on top.
Add the remaining grated cheese on top and close with another bread to make a sandwich.
Smear a grill pan with oil or butter and grill the sandwich. until both sides turn golden.
Notes
You can definitely add more veggies of your choice. Throw in some greens like spinach, kale or beet leaves too in this cream cheese sandwich recipe to make it more wholesome!
Instead of cream cheese, you can also use sour cream or Greek Yogurt. They all will pair well with mustard sauce. Make these sandwiches with whatever bread you have. You can use leftover bread too!
Smear a layer of green chutney or pesto sauce on the bread slices before adding the veggie mixture for more flavor.
If you like a cheese pull, use either Colby, Havarti, Swiss, Fontina, Monterey Jack, Provolone, or even Smoked Gouda.
You can also use a Panini Maker instead of a Grill Pan to make these grilled vegetarian sandwiches.
This sandwich can easily be made vegan. use dairy-free cream cheese or sour cream, and shredded cheese.
You can prepare the veggie mixture ahead of time and store it in the fridge. It stays good for 3-4 days. It's best to make and consume these sandwiches in a couple of hours as they could get soggy.
---