Hot Honey Dijon Fried Chicken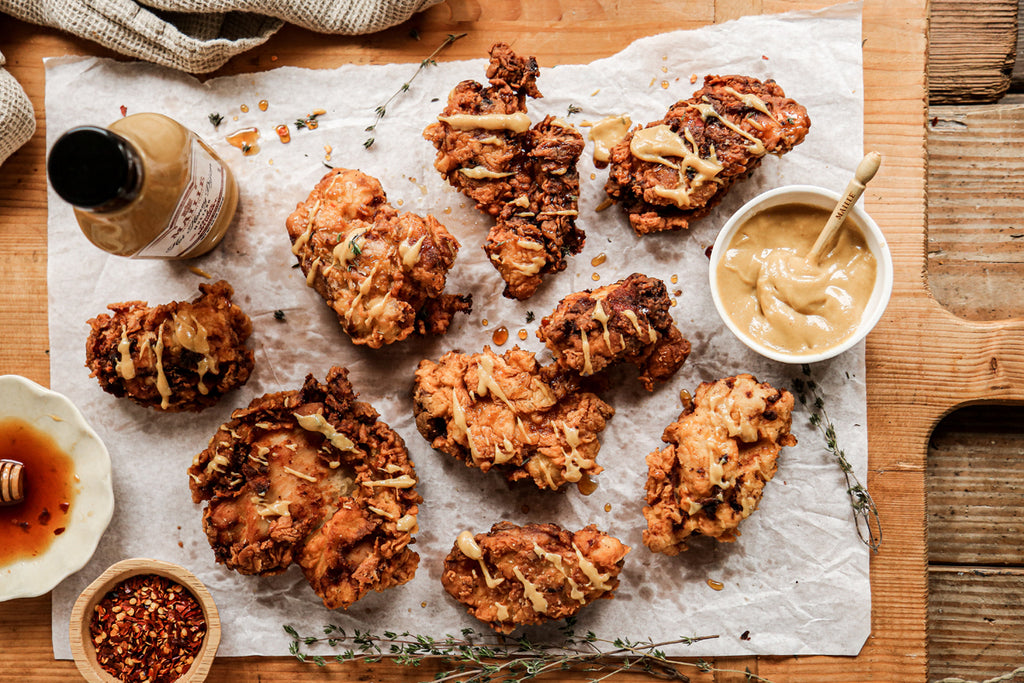 Prep Time: 20 Minutes
Cook time: 45 Minutes
Serves: 6
Ingredients
2 pounds boneless chicken thighs, breasts or a mix (with or without skin, depending on your preference)
1 ½ cups buttermilk
3 tablespoons Maille x Mike's Hot Honey Dijon + additional for serving
3 cups all-purpose flour
2 teaspoons salt
1 teaspoon fresh ground black pepper
1 teaspoon red pepper flakes (optional, add for extra spiciness)
Frying oil
Optional garnishes: fresh thyme, red pepper flakes, Mike's Hot Honey, Maille Cornichons
Preparation
Combine the buttermilk and Maille x Mike's Hot Honey Dijon in a large bowl and stir until mixed. Add the chicken, cover the bowl and allow to marinate 20-30 minutes, or overnight in the refrigerator.
In a separate large bowl, whisk together the flour, salt, pepper and red pepper flakes (if using) until combined. Set aside.
When you're ready to fry the chicken, add the frying oil to a large, deep pot (you want the oil to be at least 2 inches deep) and heat over medium-high heat until it's about 350 degrees (this will take a few minutes).
Meanwhile, line a baking sheet with paper towels and set that aside.
Then, start dredging the chicken in the flour mixture. Place in back in the buttermilk, the dredge it in the flour mixture once more before carefully placing it into the hot oil. Repeat with each piece of chicken. Depending on the size of your pan and pieces of chicken, you should be able to cook 3-4 pieces of chicken at a time. Just be sure the pan isn't overcrowded and you have enough room to flip the chicken over.
Cook the chicken 6-8 minutes, or until it starts turning golden brown around the edges. Then flip the chicken over and cook an additional 6-8 minutes, or until golden brown (be sure to keep the heat high to achieve the perfect golden brown color). Transfer to the paper towel lined baking sheet.
Once all the chicken is cooked, transfer to a serving platter. Enjoy as is, dipping the pieces into extra Maille x Mike's Hot Honey Dijon or feel free to garnish with a drizzle of Maille x Mike's Hot Honey Dijon, Mike's Hot Honey, freshy thyme and/or a sprinkle of red pepper flakes and serve with Maille Cornichons on the side.
---