Hot Honey Dijon Gingerbread Bundt Cake with Maple Cinnamon Glaze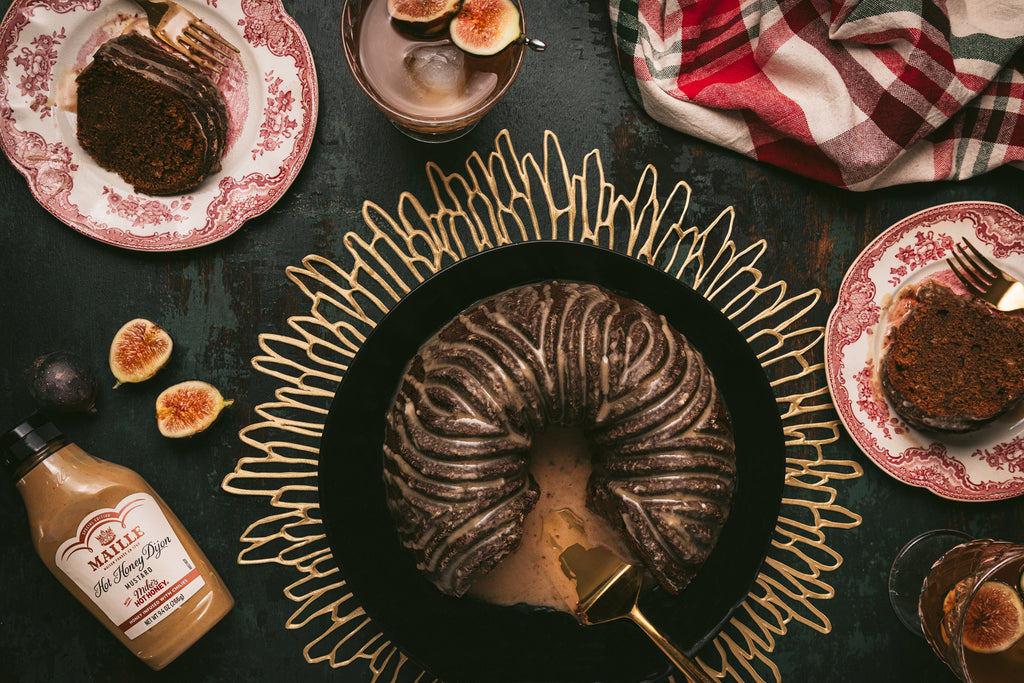 Prep Time: 15 Minutes
Bake: 55-65 Minutes | Total: 1 hour 20 minutes
Serves: 10
By: PrettyDeliciousLife
Ingredients
For the Gingerbread Bundt
2.5 cups all purpose flour (can also sub in gluten free 1:1 flour)
3 tsp ginger
2 tsp cinnamon
1 tsp nutmeg
1 tsp allspice
½ tsp clove
¼ tsp cardamom
½ tsp salt
1 tsp baking powder
¼ tsp baking soda
¾ cup softened unsalted butter
1.5 cups dark brown sugar
2 large room temperature eggs
½ cup molasses
1 cup milk
For the Maple Cinnamon Glaze
1 ¼ cup powdered sugar
½ tsp cinnamon
1 tsp vanilla
¼ cup maple syrup
¼ cup milk of choice
Preparation
Preheat the oven to 350F. Tip: Do not grease or flour your bundt 10 cup pan until just before adding in batter to avoid sticking.
In a medium mixing bowl, combine flour, spices, salt, baking powder & baking soda, whisking to combine. Set aside.
In a large mixing bowl, beat together dark brown sugar and butter using an electric hand mixer until mixture is light and fluffy.
Add eggs to the butter and sugar, mixing them in one at a time until batter is homogeneous, then fold in the molasses and Maille's Hot Honey Dijon Mustard using a silicone spatula.
Add ⅓ of the flour mixture into the wet ingredients followed by ⅓ cup of the milk, folding ingredients in gently until just mixed. Repeat twice with the remaining flour mixture and milk, mixing until smooth.
Lightly grease a 10 cup bundt pan with oil based pan spray and lightly flour just before adding the batter.
Pour batter into a bundt pan and smooth out the top with a spatula.
Bake 55-60 minutes or until a cake tester or toothpick comes out clean.
While the cake bakes, prepare the glaze by adding powdered sugar, maple syrup, vanilla, cinnamon, milk and Maille's Hot Honey Dijon Mustard to a medium mixing bowl.
Whisk until smooth, no clumps of sugar should remain. If needed, adjust the consistency by adding more powdered sugar to thicken or more milk to thin the glaze.
When the cake has finished baking, allow it to cool for 10 minutes before turning it out onto a baking rack, then allow it to cool completely before glazing and serving.
---