Maille Crispy Chicken Sandwich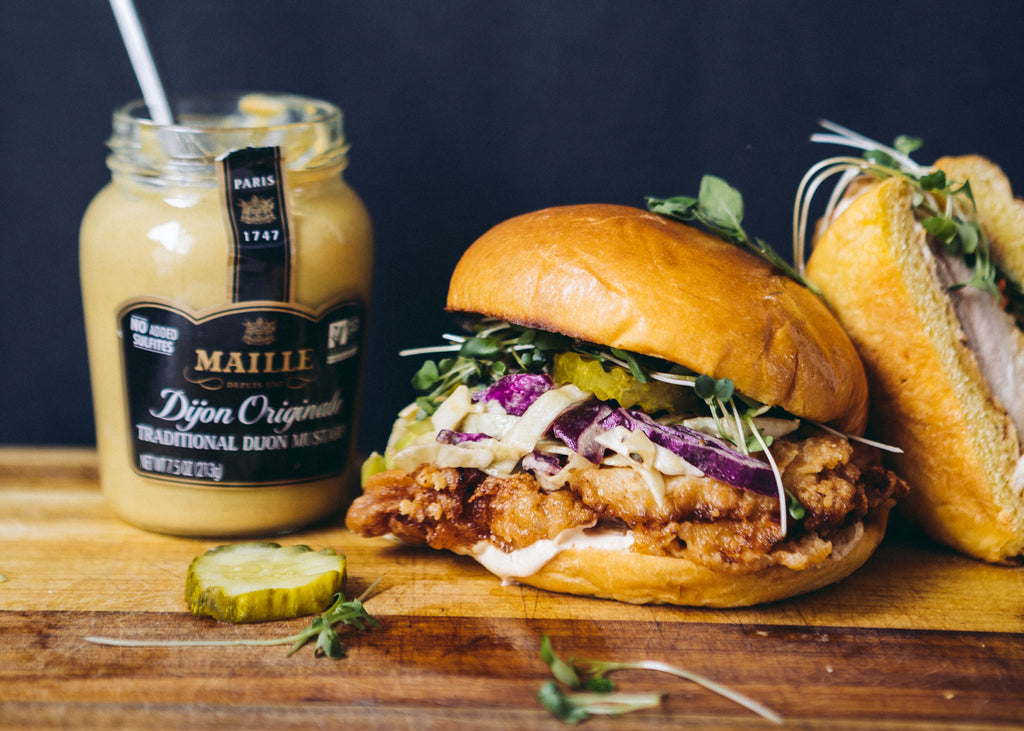 Prep Time: 4 hours
Cook time: 10 minute
Serves: 4
By: SweetandSorrel
A delicious homemade Crispy Chicken Sandwich
Ingredients
boneless skinless chicken thighs
canola oil for frying
Wet Batter
2 cups buttermilk
1 tbsp paprika
2 tsp cayenne powder
2 tsp garlic powder
2 tsp habanero sauce
1 tsp salt
Dry Batter
2 cups AP flour
1/4 cup cornstarch
1 tbsp paprika
2 tsp cayenne powder
2 tsp garlic powder
1/4 tsp salt and pepper
Sriracha Mayo
1/4 cup mayo or Greek yogurt
1 tbsp sriracha
garlic powder
1 tsp lemon juice optional
Preparation
Place boneless skinless chicken thighs between 2 sheets of plastic wrap and lightly pound until flat.
To prepare the wet batter, add all ingredients to a large bowl and whisk to combine. Place chicken thighs in the batter, making sure they are fully submerged. Cover with plastic wrap. Refrigerate for a minimum of 4 hours, preferably overnight.
In a large frying pan, heat about 4 cups of canola oil over medium high heat. You may need more oil depending on the size of your pot. The oil should reach about 1 inch high.
Whisk together ingredients for the dry batter on a large plate. Remove chicken thighs from the fridge and let them come to room temperature. Shake off the excess wet batter, then dip thighs in dry batter, pressing down to ensure the mixture sticks to the chicken. Fry for 4-5 minutes per side, until golden brown and fully cooked through.
Prepare the sriracha mayo by whisking together the ingredients for the mayo. If you are using Greek yogurt, add 1 tsp of lemon juice.
To serve, toast brioche buns. Slater sriracha mayo onto the bun, then layer on a piece of fried chicken. Top with coleslaw, microgreens, and pickles. Enjoy!
---