Maille Dijon Cheesy Corn Balls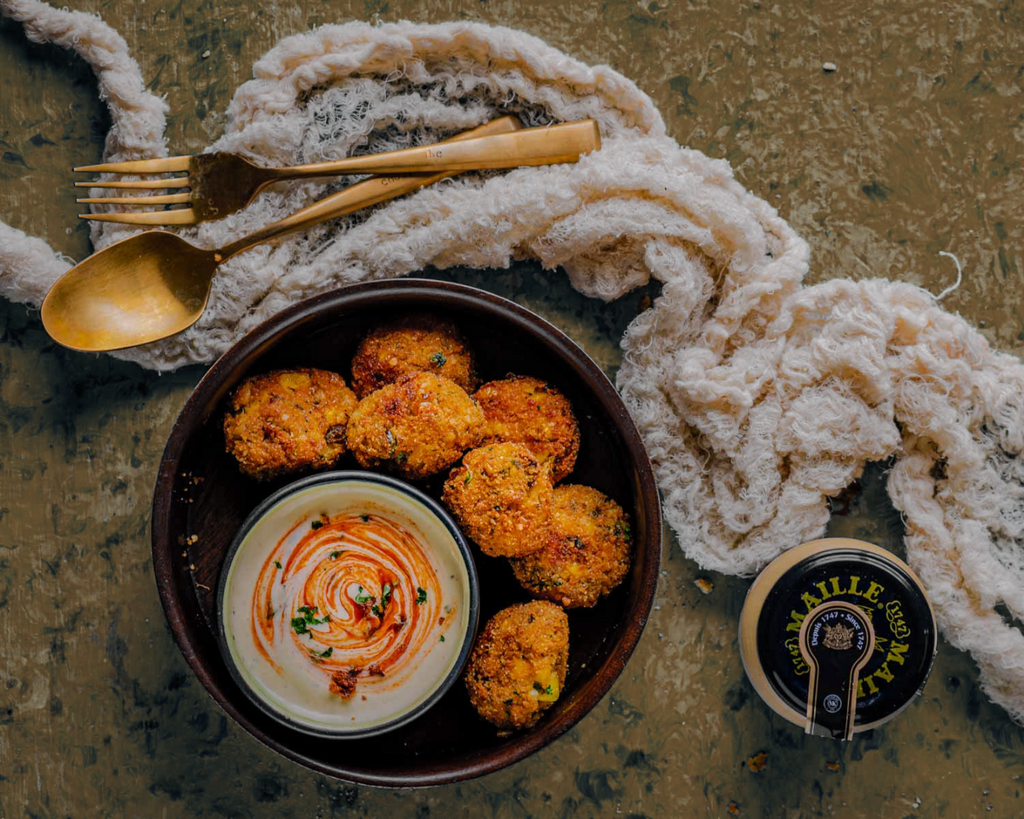 Prep Time: 10 Minutes
Cook time: 30 Minutes
Serves: 14 Balls
By: Cookiliciousl
Fried Cheese Corn Balls/Croquettes/Fritters are the perfect bite-sized finger-food made with mozzarella cheese and corn! It's sure to be a HIT at parties. Easy to make and delicious to taste, try this vegetarian appetizer today!
Ingredients
1 cup sweet corn
1 tsp oil
4 green chillies
4 cloves garlic
3 tbsp white pasta sauce
1 tsp Italian seasonings
crushed black pepper
salt as needed
1/2 cup cheese
1 tsp dried cilantro
Oil for frying
1 bowl milk
Preparation
Crush half the quantity of corn using a blender.
Fry garlic and green chillies in oil till they turn light golden brown.
Add white sauce along with Maille Dijon Original mustard to a pan. Bring to a boil on medium flame.
Add the crushed and whole sweet corn, mix and cook for 2 minutes or till it becomes thick.
Add the cheese, Italian seasoning, crushed black pepper and salt (only if needed).
Mix and cook till it all comes together like a dough.
Add the cilantro and give it a final mix.
Allow the mixture to cool a bit. Grease your palms with oil if needed and divide the dough into equal portions. Then shape them into golf-size balls and arrange them on a plate.
Dip each ball in the milk and then roll it in the breadcrumbs. Place the plate in the fridge or freezer for 15 minutes. This prevents the cheese from oozing out.
Meanwhile, heat oil for frying. Fry them in batches in hot oil over a medium flame till they turn golden brown.
Do not crowd them and don't be in a hurry to flip them. Cook one side and after you see the edges browning, turn it over and fry the other side.
Prepare as many Cheese Corn Fritters as you need and transfer to a plate layered with paper towels to soak off the excess oil.
Serve the cheese corn croquettes hot with some chutney, ketchup, spiced mayo, schezwan sauce, or any other dipping sauce!
---