Maille Dijon Crusted Pot Roast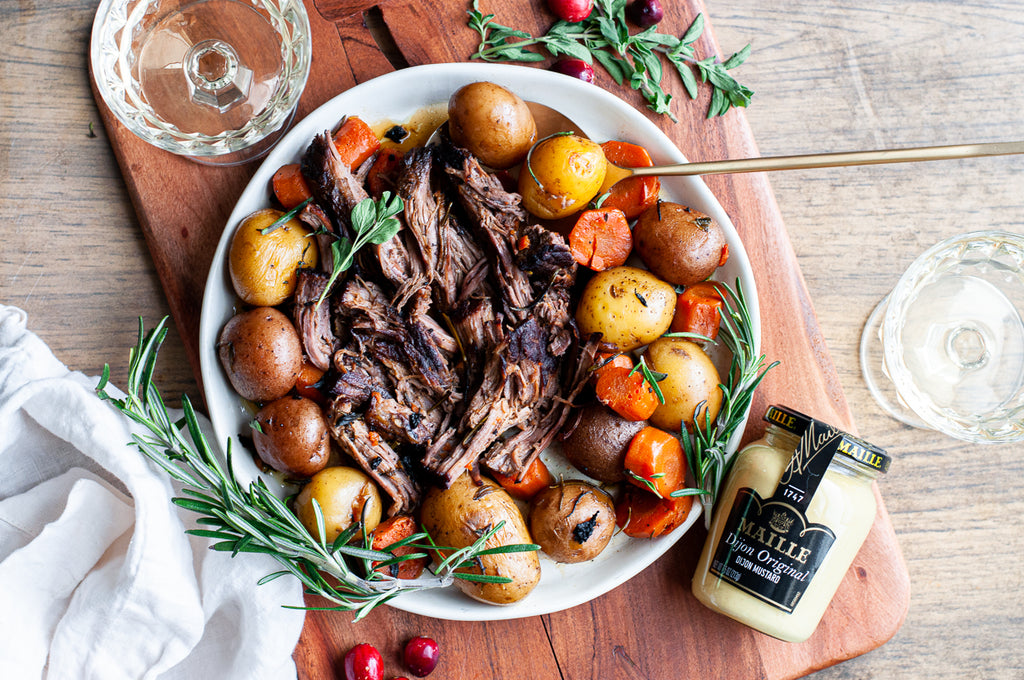 Prep Time: 15 Minutes
Cook time: 3 Hours
Serves: 6
This Mustard Crusted Pot Roast is perfect for the holidays! With tender beef flavored with Maille Dijon Original Mustard, potatoes and carrots, and flavorful herbs, this recipe is great for the whole family.
Ingredients
3 lb beef chuck roast
2 tablespoons of olive oil.
1/2 teaspoon salt
1/2 teaspoon black pepper
1/4 cup Maille Dijon Original mustard
2 cups beef broth
2 cups baby potatoes
3 carrots, cut in chunks
2 sprigs rosemary, plus more for serving
2 sprigs oregano, plus more for serving
Preparation
Preheat the oven to 300 degrees F.
Pat chuck roast dry. Season with salt, pepper, and rub with Maille Dijon Original mustard.
Heat olive oil in a large Dutch oven. Sear chuck roast on all sides until browned.
Add beef broth, potatoes, carrots, rosemary, and thyme to the Dutch oven.
Cover Dutch oven and cook for 3 hours, or until beef falls apart. Serve with fresh rosemary and oregano.
Tips
Thoroughly sear each side of the beef. You want a dark brown sear on each side.
---