Overnight Holiday Breakfast Casserole with Sausage and Pico de Gallo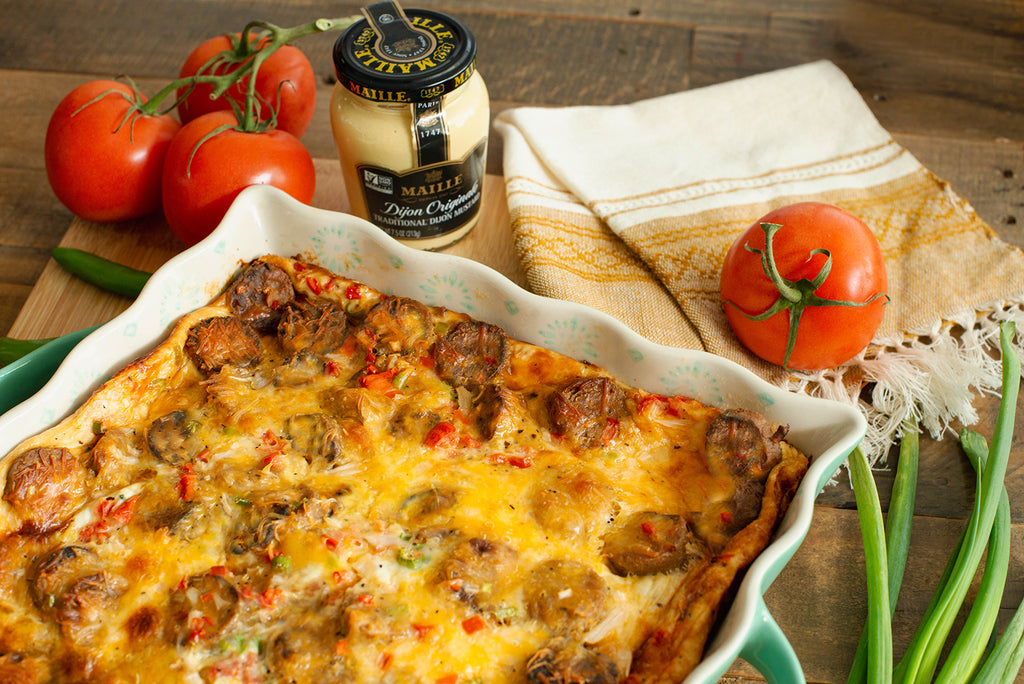 Prep Time: 15 Minutes
Cook time: 45 Minutes
Serves: 10
Ingredients
1 tablespoon olive oil
1 pound breakfast sausage (pork, beef, chicken or vegetarian), sliced
2 tablespoons Maille Dijon Original mustard
6 slices white bread, crusts cut off
2 cups Mexican style shredded cheese, divided
5 eggs
3 cups milk
1 tomato, finely diced
3 green onions, chopped
1-2 serrano peppers, seeds removed and chopped
1 teaspoon soy sauce
¼ teaspoon black pepper
1/8 teaspoon ground nutmeg
¼ teaspoon salt
Preparation
Spray a 12x12 (or 9x13) oven safe dish with non-stick cooking spray. Set aside.
Heat oil in a large skillet over medium heat. Add sausage and cook until browned and cooked through. Remove from heat and stir in Maille Dijon Original mustard. Set aside.
Arrange bread slices in the bottom of the baking dish. Top with sausage/mustard mixture and spread evenly as a layer. Top with one cup cheese.
In a large separate mixing bowl, combine eggs, milk, tomato, onions, peppers, soy sauce, black pepper, nutmeg and salt and beat lightly. Pour over the sausage layer, top evenly with remaining cup of cheese, cover with aluminum foil and refrigerate overnight.
Preheat the oven to 350° F.
Bake the casserole uncovered for 40-45 minutes or until eggs are set and cheese is bubbly. Slice and serve.
---