Roasted Butternut Squash with Maille Dijon & Cornichon Vinaigrette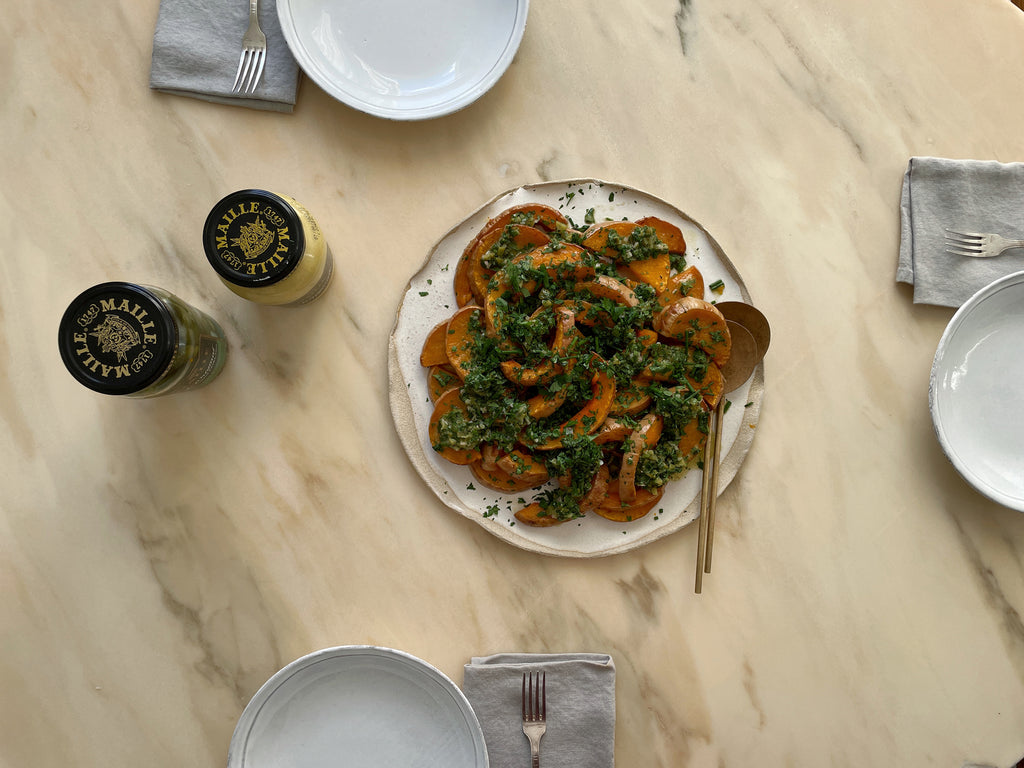 Prep Time: 15 Minutes
Cook Time: 35-40 minutes
Servings: 6
By: Rebekah Peppler
Ingredients
2 large butternut squash (each about 2 to 3 pounds), seeded and cut into ½- to ¾-inch slices
¼ cup plus 6 tablespoons extra-virgin olive oil
Fine sea salt
1 medium shallot, finely chopped
10 Maille Original Cornichons, finely chopped
2 tablespoons Maille Original Cornichons brine
2 tablespoons apple cider vinegar
1 heaping tablespoon Maille Dijon Original
1 cup finely chopped parsley
½ cup finely chopped chives
Flaky sea salt
Preparation
Preheat the oven to 425°F.
Divide the squash slices between two rimmed baking sheets and drizzle with 6 tablespoons of olive oil. Toss to coat then season the squash with salt. Spread in a single layer and roast until the squash is browned in spots, about 25 minutes. Flip the slices and continue to roast until the squash is very tender, another 10 to 15 minutes.
While the squash cooks, make the vinaigrette. In a jar with a resealable lid, add the shallot, Maille Original Cornichons, Maille Original Cornichons brine, and apple cider vinegar. Set aside for 10 minutes then add Maille Original Cornichons and ¼ cup olive oil. Cover the jar and shake until the vinaigrette is emulsified. Stir in ½ cup of the parsley and ¼ cup of the chives and season as needed. Set aside.
Once the squash is cooked, transfer to a serving platter and spoon the vinaigrette overtop. Sprinkle with reserved parsley and chives and flaky salt. Serve warm or at room temperature.
NOTES
The squash for this recipe is cooked with the peels on but if you want to get rid of the peel, simply pull it away after roasting.
Swap in another vinegar for the apple cider vinegar if you like such as red wine vinegar, white wine vinegar, or sherry vinegar.
Add a teaspoon of honey to the vinaigrette for a touch of sweetness and add a pinch of red pepper flakes or a few dashes of hot sauce for a touch of spice.
The vinaigrette can also be tossed with salad greens or used as a dip for crudité.
---