Savory Dijon Chicken Hand Pies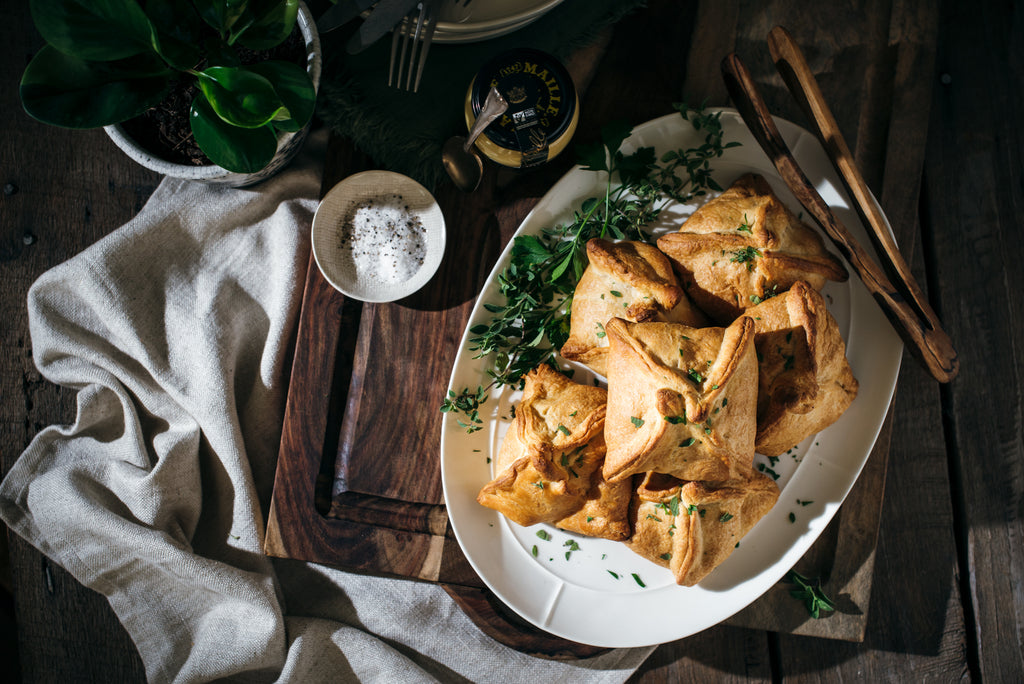 Prep Time: 25 Minutes
Cook time: 20 Minutes
Serves:
Total Time 45 Minutes
by LittleFiggy
Ingredients
2 (8 ounce tubes) crescent (croissant) flake rolled dough
4 - 6 cups rotisserie chicken, shredded
8 ounces cream cheese, softened
2 - 3 tablespoons milk
2-3 tablespoons Maille Dijon Original mustard
1 tablespoons chopped pimento pepper, or jarred roasted red peppers
3 - 4 spring onions, diced
1 tablespoon chives, chopped
Salt, to taste
Pepper, to taste
Preparation
Preheat the oven to 375°F and line a baking sheet with parchment paper.
Using 2 forks, shred the chicken, about 4 - 6 cups.
In a large bowl, add in the shredded chicken, softened cream cheese, and blend well.
Add in the milk to loosen the chicken mixture slightly. Mix in the chopped pimentos, spring onions, Maille Dijon Original mustard, chives, salt, and pepper to taste.
Blend everything well, cover with plastic wrap and set aside until ready to use. Can be made up to 2 - 3 days ahead, kept covered in the refrigerator until you are ready to make the hand pies.
Unroll the dough, cutting along the perforations to form 4 rectangles, pressing or pinching the remaining perforations firmly to seal. Roll out if needed to make the rectangles about 4 x 6 inches in size.
Spoon 1/2 cup chicken mixture over the center of one rectangle. Pull the 4 corners of dough to the center, twisting and pinching firmly to seal edges. Repeat with remaining rectangles until you have filled 8 hand pies.
Place on the parchment-lined baking sheet, about 2 inches apart.
Bake in the preheated oven for 20 - 25 min or until golden. Remove and serve.
Garnish with additional chopped chives and Italian flat-leaf parsley, if desired.
Notes
To make mini bite croissant chicken hand pies, simply use one perforated triangle per hand pie filled with 1 tablespoon of the chicken filling. Bake for 15 minutes or until golden brown.
---